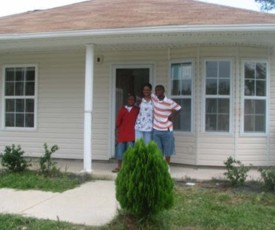 Welcome to Builders of Hope
In northern Indiana an organization of volunteers is bringing help and hope to low and limited income homeowners. Builders of Hope is a faith based not for profit committed to providing the faith community the opportunity to take faith outside the walls of the church and into our community by assisting homeowners who are without the means to make the needed repairs to their houses.
At Builders of Hope we work with any resident homeowner who qualifies financially, limited only by time, financial resources, and the volunteers to perform the work. In the past 5 years we have assisted more than 90 homeowners in Elkhart and St. Joseph Counties. Work has ranged from making interior repairs to building handicap accessible ramps to re-shingling roofs. In 2014 we completed work on 34 homes in Elkhart and St. Joseph Counties. We plan to work on at least 30 homes in 2015.
In 2014 Builders of Hope was the recipient of a grant of $11,300.00 from the Elkhart County Community Foundation. This generosity allowed us to purchase a much needed new trailer and new tools and construction equipment. The benefit of having the new trailer to complement our existing trailer is that we have had numerous occasions where we staged work at more than one venue simultaneously. In past years it would have been virtually impossible to work at more than one site at a time.
We are increasing our volunteer network this year by collaborating with other relief and educational agencies, providing meaningful work opportunities for their clients that will enable those clients to become more employable. We are also growing our network of churches, some of whom will use their Builders of Hope service as a part of a larger mission of community development. We are also working to involve neighborhood associations in a larger program of neighborhood improvement and development. We will also hold our first annual Day of Hope, inviting local businesses, churches, service clubs and volunteers to join us in doing a 2 day house makeover for a homeowner in Elkhart.
Please visit our Projects page to see highlights of some our past work assisting homeowners. While there you can also learn about opportunities for you to serve homeowners living in the quiet desperation of unmet needs.
At Builders of Hope we work with all volunteers, from the experienced craftsmen to the willing workers who just want to help in any way they can. If you or your group would like to help, just go to the Projects page, find a need that appeals to you and click on the "Apply" button. We'll ask you for some personal information and will be in touch with you about setting up a work day or days. We attempt to arrange our projects to fit the schedules of our volunteers. You will see the projects without specific dates unless volunteers have scheduled dates. Once you choose a project and set your dates we will list those dates. It's just that easy to be a part of bringing hope and joy to a homeowner who has been living in despair. We will provide the tools and supplies and the necessary supervision to get the job done. Or, you can volunteer the old fashioned way by calling us at 574-596-1541.
You can also assist us by your gifts. We rely on donations for our finances to purchase materials. We are designated by the IRS as a 501-c-3 Public Charity and all gifts are fully tax deductible. You may mail gifts to Builders of Hope, P.O. Box 2558, Elkhart, IN 46515, or you may give online by hitting the "Donate" button.
If you are a homeowner in need of assistance you may call us at 574-596-1541. We are here to serve.